Inconel 600 Threaded Forged Fittings, Inconel 601 Threaded Tee, DIN NR. 2.4816 / 2.4851 Threaded Coupling, Inconel 600 Threaded Plug, 601 Monel Threaded Equal Tee, Inconel 600 Threaded Pipe Elbow Suppliers in India.

ASTM B564 600 Threaded Elbow, Inconel 600 Hex Plug, Inconel 601 Threaded Bushing, Inconel 601 Hexagonal Plug, Inconel 600 Threaded Bend & Cap, UNS N06600 / N06601 Threaded Forged 90deg Elbow Manufacturer in India.
We are Manufacturer, Supplier & Exporter of Inconel Alloy 600 / 601 Threaded Forged Fittings, Inconel Alloy 601 Threaded Pipe Fittings, Inconel Alloy 600 Threaded Fittings and Inconel Alloy 601 Forged Pipe Fittings that are being designed as per the national and international standard quality of raw materials and thus making sure of their durability and high quality. These Inconel 600 Elbow fittings are known for robust construction, unrivalled quality and better functionality. The exceptional toughness and strength of Inconel 600 / 601 Forged Fittings (UNS N06600 / N06601) is because of the adding of niobium that acts by means of the molybdenum to harden the steel's matrix.
Inconel 601 Forged Fittings (UNS N06601) stands out because of its resistance to soaring temp oxidation, continuing extremely resistant to oxidation in the course of 2200 Deg F. The high nickel content in our Inconel 600 Forged Threaded Cross enables it to retain considerable resistance under reducing conditions. These Inconel 600 Forged Threaded Cap is also often used in high temperature static applications. Inconel 600 Elbow Forged Fittings shows high levels of atmospheric corrosion. These Inconel 601 Forged Threaded Fittings has highly resistant to oxidation through 2200 Degree F. Inconel 601 Forged Threaded Coupling has high mechanical strength, and is readily formed, machined, and welded.
Specification
| | |
| --- | --- |
| Grade | Inconel Alloy 600 | UNS N06600, Inconel Alloy 601 | UNS N06601 |
| Standard | ASTM B564 & ASME SB564 |
| Dimensions | ASME 16.11, MSS SP-79, 83, 95, 97, BS 3799 |
| Size | 1/8" NB to 4" NB (Socketweld & Screwed-Threaded) |
| Class | 2000 LBS, 3000 LBS, 6000 LBS, 9000 LBS |
| Form | Threaded 45 deg Elbow, Threaded 90 deg Elbow, Threaded Tee, Threaded Cross, Threaded Cap, Threaded Bend, Threaded Coupling, Threaded Union , Threaded Bushing, Plug, Hex Plus, Hexagonal Plus, Lateral Tee. |
| Type | Threaded Forged Fittings |
Grade Specification
| | | | | | | | |
| --- | --- | --- | --- | --- | --- | --- | --- |
| STANDARD | WERKSTOFF NR. | UNS | JIS | BS | GOST | AFNOR | EN |
| Inconel 600 | 2.4816 | N06600 | NCF 600 | NA 13 | МНЖМц 28-2,5-1,5 | NC15FE11M | NiCr15Fe |
| Inconel 601 | 2.4851 | N06601 | NCF 601 | NA 49 | XH60BT | NC23FeA | NiCr23Fe |
Chemical Composition
| | | | | | | | | | |
| --- | --- | --- | --- | --- | --- | --- | --- | --- | --- |
| Grade | C | Mn | Si | P | S | Cr | Cu | Ni | Fe |
| Inconel 600 | 0.15 max | 1 max | 0.5 max | – | 0.015 max | 14 – 17 | 0.50 max | 72 min | 6.0-10.0 |
| Inconel 601 | 0.10 max | 1.00 max | 0.50 max | – | 0.015 max | 21.00-25.00 | 1.00 max | 58-63 | Balance |
Mechanical Properties
| | | | | |
| --- | --- | --- | --- | --- |
| Density | Melting Point | Tensile Strength | Yield Strength (0.2%Offset) | Elongation |
| 8.47 g/cm3 | 1413 °C (2580 °F) | Psi – 95,000 , MPa – 655 | Psi – 45,000 , MPa – 310 | 40 % |
Other Types of Inconel 600 / 601 Threaded Forged Fittings
Inconel 600 Threaded Tee
ASTM B564 Inconel 601 Threaded Elbow
Inconel 600 Threaded Bend
601 Alloy Threaded Cap
ASTM B564 Threaded 90 Deg Elbow
Inconel 601 Threaded Pipe Elbow
DIN NR. 2.4816 / 2.4851 Screwed Fittings
Alloy 600 Threaded Hex Nipples
UNS N06600 / N06601 Threaded Forged 90deg. Elbow
DIN 2.4816 / 2.4851 Threaded Cross
Alloy 601 Threaded Coupling
UNS N06601 Threaded Union
Inconel 601 Threaded Plug
600 Inconel Threaded Equal Tee
Alloy 601 Hex Plug
Inconel 600 Threaded Bushing
UNS N06600 45deg Forged Threaded Elbow
WERKSTOFF NR. 2.4816 / 2.4851 Threaded Tee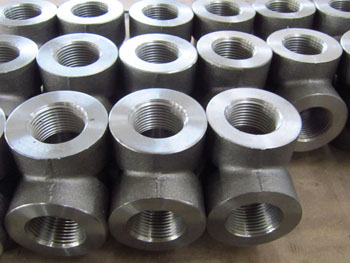 Inconel 600/601 Threaded Elbow
Inconel 600/601 Threaded Tee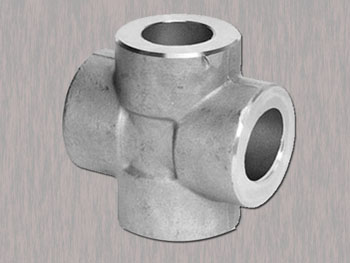 Inconel 600/601 Threaded Cross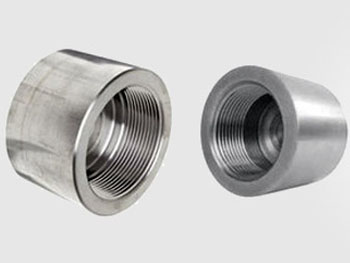 Inconel 600/601 Threaded Cap
Cities We

Deliver to

Victor Steels Corporation manufactures and exports to multiple cities such as Mumbai, Thane, Navi Mumbai, Pune, Pimpri-Chinchwad, Vadodara, Kolkata, Gurgaon, Ahmedabad, Seoul, Hyderabad, Singapore, Abu Dhabi, Tehran, Calgary, Noida, Riyadh, London, Coimbatore, Jakarta, Istanbul, Bangkok, Kuwait City, Sharjah, Muscat, Edmonton, Busan, Mexico City, Doha, New Delhi, Bengaluru, Chennai, Surat, Bhopal, Ulsan, Faridabad, Houston, Dubai, Jeddah, Aberdeen, Cairo, Geoje-si, Perth, Santiago, Chandigarh, Indore, Kuala Lumpur, Rio de Janeiro, Dammam, Melbourne, Madrid, La Victoria, Bogota, Lahore, Los Angeles, Algiers, Chiyoda, Ankara, Ho Chi Minh City, Toronto, Hong Kong, Howrah, Sydney, Ahvaz, Karachi, Rajkot, Brisbane, Petaling Jaya, Ernakulam, Secunderabad, Gimhae-si, Al Jubail, Port-of-Spain, Thiruvananthapuram, Milan, Atyrau, Lagos, Hanoi, New York, Caracas, Vung Tau, Al Khobar, Manama, Montreal, Granada, Courbevoie, Visakhapatnam, Ludhiana, Moscow, Dallas, Haryana, Colombo
Countries We

Export to

Victor Steels Corporation manufactures and exports to various countries such as Saudi Arabia, Bangladesh, United States, United Arab Emirates, Canada, Angola, Argentina, Austria, Azerbaijan, Pakistan, Peru, Chile, Kuwait, Mexico, Malaysia, Nigeria, Serbia, Singapore, Taiwan, Chile, Venezuela, Ecuador, Netherlands, Brazil, Vietnam, South Africa, Nigeria, Mexico, Turkey, Hungary, Algeria, Belarus, Belgium, Bhutan, Bolivia, Bulgaria, Croatia, Czech Republic, Estonia, Finland, Greece, Italy, Japan, Libya, Colombia, Ghana, Iran, Denmark, Poland, Australia, Afghanistan, Bahrain, Costa Rica, Egypt, Iraq, Jordan, South Korea, Kazakhstan, Sri Lanka, Lithuania, Norway, Oman, Philippines, Poland, Qatar, Spain, France, United Kingdom, Indonesia, Israel, Iran, Russia, Romania, Thailand, Trinidad & Tobago,Tunisia, Ukraine, Yemen, Hong Kong, Gabon, China, Portugal, Switzerland, New Zealand, Sweden, Slovakia, Kenya, Lebanon, Morocco, Mongolia