ASTM B564 800 Incoloy Couplings, Werkstoff No 1.4876 Incoloy High Pressure Forged Fittings, Incoloy DIN 1.4859 / 1.4876 Forged Steel Fittings, Incoloy 800HT Socket Weld Fitting Suppliers in Mumbai,India.

Incoloy 800H Forged 90 Deg Screwed Threaded Elbow, UNS N08810 Forged Fittings, Incoloy 800 Threaded Plug, Incoloy 800H Alloy Pipe Nipple, Alloy 800HT Forged Elbow, Incoloy 800 Forged Pipe Fitting Manufacturer in India.
We are Manufacturer, Supplier & Exporter of Incoloy 800 / 800H / 800HT Threaded Forged Fittings in India and abroad. Alloy 800 / 800H / 800HT Forged Threaded Fittings (UNS N08800) are Good Resistance to Oxidation and Carburization at Elevated Temperatures, and it also has Moderate Strength. The chromium in the Alloy 800 / 800H / 800HT Threaded Forged Fittings imparts resistance to oxidation and corrosion. Inconel 800 / 800H / 800HT Forged Threaded Fittings are often used in chemical and petrochemical processing, in power plants, industrial furnaces, and for heat treating equipment. Incoloy 800H Forged Threaded Tee (UNS N08810) is excellent resistance to oxidation, sulfidation, and carburization. Heat treatment retorts, muffles jigs and fixtures have also used these Incoloy 800HT Forged Threaded Cross (UNS N08811) to a great effect.
Our Alloy 800 Forged Threaded Fittings are resistant to embrittlement from precipitation of sigma phase and chloride stress – corrosion cracking due to the nickel content. Our offer Incoloy 800 Threaded Cross Forged Fittings is available in various sizes and thicknesses to meet all customer centric requirements, Alloy 800 Threaded Coupling are suitable for usage in aqueous and low-temperature environments. These Nickel 800HT Pipe Fittings serves major industries such as chemical & petrochemical, pharmaceutical, automotive, marine, and food & beverage processing. For gas-tungsten-arc, gas-metal-arc, and submerged-arc welding, these Nickel 800 Butt Weld Fittings is recommended. Our Inconel 800H Butt Weld Fittings is often used in Hydrocarbon cracking, Pressure vessels and heat exchangers.
Specification
| | |
| --- | --- |
| Grade | Incoloy Alloy 800 / 800H / 800HT | UNS N08800 / N08810 / N08811 |
| Standard | ASTM B564 & ASME SB564 |
| Dimensions | ASME 16.11, MSS SP-79, 83, 95, 97, BS 3799 |
| Size | 1/8" NB to 4" NB (Socketweld & Screwed-Threaded) |
| Class | 2000 LBS, 3000 LBS, 8000 LBS, 9000 LBS |
| Form | Threaded 45 deg Elbow, Threaded 90 deg Elbow, Threaded Tee, Threaded Cross, Threaded Cap, Threaded Bend, Threaded Coupling, Threaded Union , Threaded Bushing, Plug, Hex Plus, Hexagonal Plus, Lateral Tee. |
| Type | Threaded Forged Fittings |
Grade Specification
| | | | | | | | |
| --- | --- | --- | --- | --- | --- | --- | --- |
| STANDARD | WERKSTOFF NR. | UNS | JIS | BS | GOST | AFNOR | EN |
| Incoloy 800 | 1.4876 | N08800 | NCF 800 | NA 15 | ЭИ670 | Z8NC32-21 | X10NiCrAlTi32-20 |
| Incoloy 800H | 1.4958 / 1.4876 | N08810 | NCF 800H | NA 15(H) | ЭИ670 | Z8NC32-21 | X5NiCrAlTi31-20 |
| Incoloy 800HT | 1.4859 / 1.4876 | N08811 | NCF 800HT | NA 15(HT) | ЭИ670 | – | X8NiCrAlTi32-21 |
Chemical Composition
| | | | | | | | | | |
| --- | --- | --- | --- | --- | --- | --- | --- | --- | --- |
| Grade | C | Mn | Si | P | S | Cr | Cu | Ni | Fe |
| Incoloy 800 | 0.10 max | 1.50 max | 1.00 max | – | 0.015 max | 19.00 – 23.00 | 0.75 max | 30.0 – 35.0 | 39.50 min |
| Incoloy 800H | 0.05 – 0.10 | 1.50 max | 1.00 max | – | 0.015 max | 19.00 – 23.00 | 0.75 max | 30.0 – 35.0 | 39.50 min |
| Incoloy 800HT | 0.06 – 0.10 | 1.50 max | 1.00 max | – | 0.015 max | 19.00 – 23.00 | 0.75 max | 30.0 – 35.0 | 39.50 min |
Mechanical Properties
| | | | | |
| --- | --- | --- | --- | --- |
| Density | Melting Point | Tensile Strength | Yield Strength (0.2%Offset) | Elongation |
| 8.47 g/cm3 | 1413 °C (2580 °F) | Psi – 95,000 , MPa – 655 | Psi – 45,000 , MPa – 310 | 40 % |
Other Types of Incoloy 800/800H/800HT Threaded Forged Fittings
WNR. 1.4876 Alloy Threaded Forged Fittings
Incoloy 800 Threaded Fittings
UNS N08800 Threaded Lateral Tee
Alloy 800HT 45 Deg Forged Threaded Elbow
UNS N08800 90 Deg Threaded Elbow
Incoloy Alloy 800H Threaded Cross
WNR. 1.4876 Alloy Threaded Tees
800 Alloy Threaded Cross
Incoloy 800H Threaded Cap
Alloy 800 Threaded Coupling
Incoloy 800 Threaded Union
Alloy 800 Threaded Bushing
Incoloy 800HT Forged Threaded Plug
UNS N08800 Hexagonal Plug
Incoloy Alloy 800H Threaded Hex Plug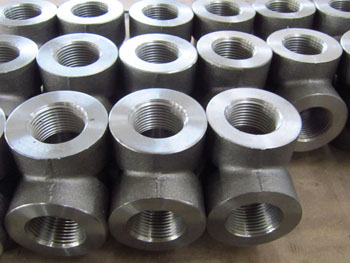 Incoloy 800/800H/800HT Threaded Elbow
Incoloy 800/800H/800HT Threaded Tee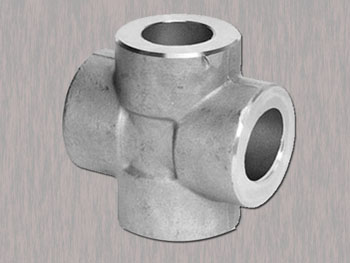 Incoloy 800/800H/800HT Threaded Cross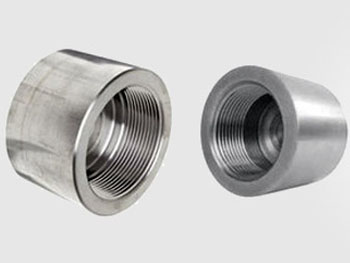 Incoloy 800/800H/800HT Threaded Cap
Cities We

Deliver to

Victor Steels Corporation manufactures and exports to multiple cities such as Mumbai, Thane, Navi Mumbai, Pune, Pimpri-Chinchwad, Vadodara, Kolkata, Gurgaon, Ahmedabad, Seoul, Hyderabad, Singapore, Abu Dhabi, Tehran, Calgary, Noida, Riyadh, London, Coimbatore, Jakarta, Istanbul, Bangkok, Kuwait City, Sharjah, Muscat, Edmonton, Busan, Mexico City, Doha, New Delhi, Bengaluru, Chennai, Surat, Bhopal, Ulsan, Faridabad, Houston, Dubai, Jeddah, Aberdeen, Cairo, Geoje-si, Perth, Santiago, Chandigarh, Indore, Kuala Lumpur, Rio de Janeiro, Dammam, Melbourne, Madrid, La Victoria, Bogota, Lahore, Los Angeles, Algiers, Chiyoda, Ankara, Ho Chi Minh City, Toronto, Hong Kong, Howrah, Sydney, Ahvaz, Karachi, Rajkot, Brisbane, Petaling Jaya, Ernakulam, Secunderabad, Gimhae-si, Al Jubail, Port-of-Spain, Thiruvananthapuram, Milan, Atyrau, Lagos, Hanoi, New York, Caracas, Vung Tau, Al Khobar, Manama, Montreal, Granada, Courbevoie, Visakhapatnam, Ludhiana, Moscow, Dallas, Haryana, Colombo
Countries We

Export to

Victor Steels Corporation manufactures and exports to various countries such as Saudi Arabia, Bangladesh, United States, United Arab Emirates, Canada, Angola, Argentina, Austria, Azerbaijan, Pakistan, Peru, Chile, Kuwait, Mexico, Malaysia, Nigeria, Serbia, Singapore, Taiwan, Chile, Venezuela, Ecuador, Netherlands, Brazil, Vietnam, South Africa, Nigeria, Mexico, Turkey, Hungary, Algeria, Belarus, Belgium, Bhutan, Bolivia, Bulgaria, Croatia, Czech Republic, Estonia, Finland, Greece, Italy, Japan, Libya, Colombia, Ghana, Iran, Denmark, Poland, Australia, Afghanistan, Bahrain, Costa Rica, Egypt, Iraq, Jordan, South Korea, Kazakhstan, Sri Lanka, Lithuania, Norway, Oman, Philippines, Poland, Qatar, Spain, France, United Kingdom, Indonesia, Israel, Iran, Russia, Romania, Thailand, Trinidad & Tobago,Tunisia, Ukraine, Yemen, Hong Kong, Gabon, China, Portugal, Switzerland, New Zealand, Sweden, Slovakia, Kenya, Lebanon, Morocco, Mongolia