ASTM A182 Stainless Steel 316 Socketweld Elbow, 316Ti SS Forged Socket weld 90deg. Elbow, SS WERKSTOFF NR. 1.4435 Socket weld Tee, SS 316L Socket weld Pipe Elbow Manufacturer in India.

SS 316L Socket Weld Cross, ASTM A182 Stainless Steel 316Ti Socketweld Elbow, ASME SA182M SS 316Ti Socket weld Tee, 316Ti SS Socketweld Cap, ASME SA182M SS 316 Socket weld Tee Suppliers in India.
We are Manufacturer, Supplier & Exporter of Stainless Steel 316 / 316l / 316ti Socket Weld Forged Fittings, which are reviewed and verified to meet the terms by means of suitable International and National Standards. We are proficient in manufacturing, supplying and exporting these Stainless Steel 316 / 316l / 316ti Socket Weld Forged Fittings in non - standard and standard sizes, by means of customized radius. SS 316 / 316L Socket Weld Forged Threaded Fittings covers an adding of molybdenum content that offers better - quality of erosion resistance. Type SS 316 / 316l / 316ti Forged Socket Weld is more resistant to oxidation than type 316 especially in warm marine environments but has poorer weldability than types 304 and 304L. These Fittings are mainly used in exhaust manifolds, heat exchangers, jet engines, and in many industrial applications.
Type Stainless Steel 316Ti Threaded Socket Weld Fittings are used for only temperatures above 927 Degree C. Stainless Steel 316L Forged Socket Weld Coupling can also offer some material cost advantages as compared to alternative choices, but upfront cost is not usually a primary driver, especially for undersea extractions. The high cost of failure in oil fields of great depths makes Stainless Steel 316 Forged Socket Weld Cross imperative that the best material for the job is selected upfront. The main advantage of these Stainless Steel 316Ti Forged Socket Weld Tee Fittings is that it can be held at higher temperatures for a longer period devoid of sensitisation (precipitation) occurring. Processes in the petroleum refining industry that can encounter these conditions include catalytic cracking and hyrdo - desulfurization, where in these areas, the corrosion resistance of our Stainless Steel 316Ti Forged Socket Weld Elbow Fittings is adequate.
Specification
| | |
| --- | --- |
| Grade | SS 316 | SS 316L , UNS S31600 | S31608, SS 316Ti | Stainless Steel 316Ti | UNS S31635 |
| Standard | ASTM A182 & ASME SA182 |
| Dimensions | ASME 16.11, MSS SP-79, 83, 95, 97, BS 3799 |
| Size | 1/8" NB to 4" NB (Socketweld & Screwed-Threaded) |
| Class | 2000 LBS, 3000 LBS, 6000 LBS, 9000 LBS |
| Form | Socket Weld Elbow, Socket Weld Tee, Socket Weld Cross, Socket Weld Cap, Socket Weld Coupling, Socket Weld Union , Socket Weld Plug, Socket Weld Lateral Tee. |
| Type | Socket Weld Fittings |
Grade Specification
| | | | | | | | |
| --- | --- | --- | --- | --- | --- | --- | --- |
| STANDARD | WERKSTOFF NR. | UNS | JIS | BS | GOST | AFNOR | EN |
| SS 316 | 1.4401/1.4436 | S31600 | SUS 316 | 316S31 / 316S33 | – | Z7CND17‐11‐02 | X5CrNiMo17-12-2 / X3CrNiMo17-13-3 |
| SS 316L | 1.4404/1.4435 | S31008 | SUS 316L | 316S11 / 316S13 | 03Ch17N14M3 / 03Ch17N14M2 | Z3CND17‐11‐02 / Z3CND18‐14‐03 | X2CrNiMo17-12-2 / X2CrNiMo18-14-3 |
| SS 316Ti | 1.4571 | S31635 | SUS 316Ti | 320S31 | 08Ch17N13M2T | Z6CNDT17‐123 | X6CrNiMoTi17-12-2 |
Chemical Composition
| | | | | | | | | | |
| --- | --- | --- | --- | --- | --- | --- | --- | --- | --- |
| Grade | C | Mn | Si | P | S | Cr | Mo | Ni | N |
| SS 316 | 0.008max | 2 max | 1.00 max | 0.045 max | 0.030 max | 16 – 18 | 2.00-3.00 | 11.00-14.00 | – |
| SS 316L | 0.035 max | 2 max | 1.00 max | 0.045 max | 0.030 max | 16– 18 | 2.00-3.00 | 10.00 – 14.00 | – |
| SS 316Ti | 0.08 max | 2 max | 0.75 max | 0.045 max | 0.030 max | 16 – 18 | 2.00-3.00 | 10.00 – 14.00 | 68.395 min |
Mechanical Properties
| | | | | |
| --- | --- | --- | --- | --- |
| Density | Melting Point | Tensile Strength | Yield Strength (0.2%Offset) | Elongation |
| 8.0 g/cm3 | 1400 °C (2550 °F) | Psi – 75000 , MPa – 515 | Psi – 30000 , MPa – 205 | 35 % |
Other Types of Stainless Steel 316 / 316L / 316TI Socket Weld Forged Fittings
Stainless 316 Socket Weld Fittings
S31600 Steel Socket weld Forged Fitting
Stainless Steel 316Ti Socket weld Elbow
Steel 316L Socket Weld Union
UNS S31603 Socket Weld Tee
S31603 Steel Socket Weld Forged Tee
316 Steel Socket Weld Forged Coupling
S31635 SS Socket Weld Forged Cross
316 Steel Socket Weld Bushing
Stainless Steel 316Ti Socket Weld Plug
SS S31603 Socket Weld 45 Deg Elbow
Steel 316 Socket Weld 90 Deg Elbow
S31600 Steel Socket Weld Lateral Tee
Steel 316Ti Socket Weld Coupling
316Ti SS Socket Weld Elbow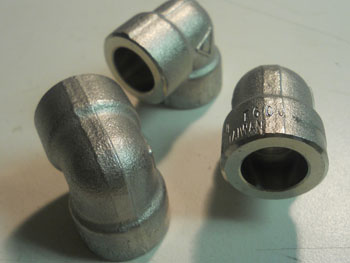 Stainless Steel 316 / 316L / 316TI Socket Weld Elbow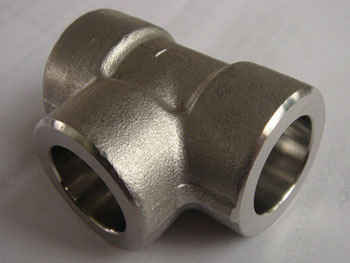 Stainless Steel 316 / 316L / 316TI Socket Weld Tee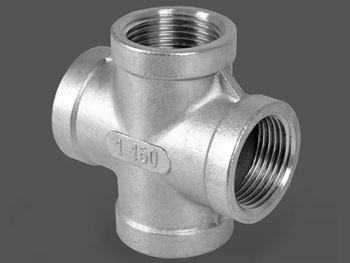 Stainless Steel 316 / 316L / 316TI Socket Weld Cross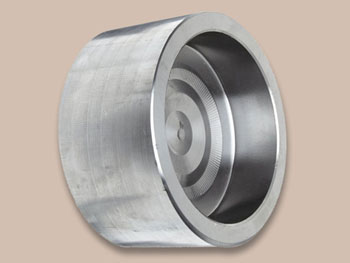 Stainless Steel 316 / 316L / 316TI Socket Weld Cap
Cities We

Deliver to

Victor Steels Corporation manufactures and exports to multiple cities such as Mumbai, Thane, Navi Mumbai, Pune, Pimpri-Chinchwad, Vadodara, Kolkata, Gurgaon, Ahmedabad, Seoul, Hyderabad, Singapore, Abu Dhabi, Tehran, Calgary, Noida, Riyadh, London, Coimbatore, Jakarta, Istanbul, Bangkok, Kuwait City, Sharjah, Muscat, Edmonton, Busan, Mexico City, Doha, New Delhi, Bengaluru, Chennai, Surat, Bhopal, Ulsan, Faridabad, Houston, Dubai, Jeddah, Aberdeen, Cairo, Geoje-si, Perth, Santiago, Chandigarh, Indore, Kuala Lumpur, Rio de Janeiro, Dammam, Melbourne, Madrid, La Victoria, Bogota, Lahore, Los Angeles, Algiers, Chiyoda, Ankara, Ho Chi Minh City, Toronto, Hong Kong, Howrah, Sydney, Ahvaz, Karachi, Rajkot, Brisbane, Petaling Jaya, Ernakulam, Secunderabad, Gimhae-si, Al Jubail, Port-of-Spain, Thiruvananthapuram, Milan, Atyrau, Lagos, Hanoi, New York, Caracas, Vung Tau, Al Khobar, Manama, Montreal, Granada, Courbevoie, Visakhapatnam, Ludhiana, Moscow, Dallas, Haryana, Colombo
Countries We

Export to

Victor Steels Corporation manufactures and exports to various countries such as Saudi Arabia, Bangladesh, United States, United Arab Emirates, Canada, Angola, Argentina, Austria, Azerbaijan, Pakistan, Peru, Chile, Kuwait, Mexico, Malaysia, Nigeria, Serbia, Singapore, Taiwan, Chile, Venezuela, Ecuador, Netherlands, Brazil, Vietnam, South Africa, Nigeria, Mexico, Turkey, Hungary, Algeria, Belarus, Belgium, Bhutan, Bolivia, Bulgaria, Croatia, Czech Republic, Estonia, Finland, Greece, Italy, Japan, Libya, Colombia, Ghana, Iran, Denmark, Poland, Australia, Afghanistan, Bahrain, Costa Rica, Egypt, Iraq, Jordan, South Korea, Kazakhstan, Sri Lanka, Lithuania, Norway, Oman, Philippines, Poland, Qatar, Spain, France, United Kingdom, Indonesia, Israel, Iran, Russia, Romania, Thailand, Trinidad & Tobago,Tunisia, Ukraine, Yemen, Hong Kong, Gabon, China, Portugal, Switzerland, New Zealand, Sweden, Slovakia, Kenya, Lebanon, Morocco, Mongolia